January 12, 2012
2012 Portland
---
Day 3 Hood to the Coast
| | |
| --- | --- |
| | [youtube]http://youtu.be/mnN8j75z8p0[/youtube] |
---
Day 4
---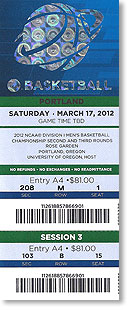 Other Memorable Moments
Lost Tickets! Dave never got the origonal shipment of tickets from Ticketmaster, so we had to go to will-call to get replacement tickets on the day of the games.  The ticket on the right is an artist rendering of what our tickets would have looked like.  The ticket was picked up off the ground, scanned and Photoshoped with our seats to look like the tickets we never knew.  See the actual tickets we got on the top of the page.
Some of the best food and beer we have ever had on our NCAA trips.
Hood to Coast!
Portland through Columbia Gorge to White Salmon, WA  65mi
White Salmon, Wa to Timberline Lodge on Mount Hood OR  50mi
Timberline Lodge to Astoria, OR  150mi
Astoria to Cannon Beach  25mi
Cannon Beach to Portland 80mi
Total of  370 miles in one day!
Our unexpected stop in Astoria Oregon on the way to the coast.  Astoria is known for having pilot boats to navigate large ships down the Columbia River and for setting speed traps for expectant tourists.
John had the opportunity to go through airport security twice both leaving for Oregon and returning home.  On the way out, it was for having a liquid in his carry-on and on the way back because the ticket agent never gave him a boarding pass.
It rained every day although our day off (and most other days) had periods of sunshine when we needed it.  There was one exception, after the games on Thursday, we had a recurrence of what happened in Dallas, it rained hard and it rained sideways on us as we walked to the the Metro.
No sales tax on food or merchandise in Oregon!

See all our photos by clicking on the flickr images below!



---
The Games
| | | | | |
| --- | --- | --- | --- | --- |
| Louisville (4)  | |  |           |   | |
| | | |  Louisville (69-62) | | |
| Davidson(13) | | | | |  |               |
| |   | | |  |  Louisville (59-56) |
| New Mexico (5)  | |  | | | | |
| | |  | New Mexico (75-68) | | |
| Long Beach  State (12) | |  | |   | |
| |   | |   | |
| Wichita State  (5) | |  | |   | |
| | |  | VCU*(62-59) | | |
| VCU (12) | | | | |  | |
| |   | | |  |  Indiana (63-61) |
| Indiana (4) | | | | |  | |
| | |  | Indiana (79-66) |   | |
| New Mexico State (13) | | | | | |
| | | | | * upsets |
  * upsets Highest Final Seat:–