Buffalo, New York


March 2007
Day 1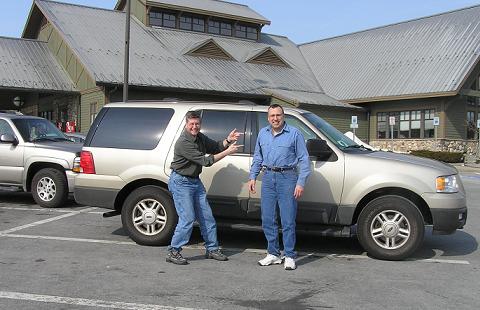 Our first stop on the New York Throughway. Shortly after this picture John
knocked about $1000 of electronics out of the back seat including Dave's
pride and joy (his GPS navigation system). It didn't break and Dave was
able to talk about it for the next four days.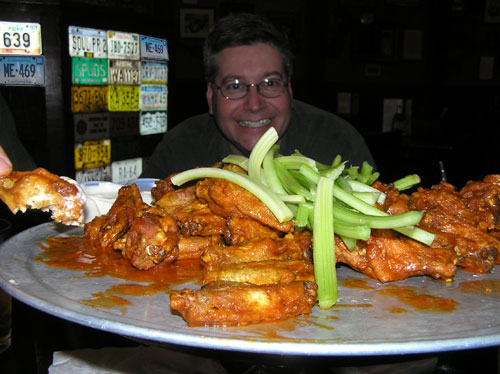 Chicken Wings at the Anchor Bar, which is where they were invented in 1964.
The committee agreed that these were the best wings they had ever had
Look at those license plates…one looks familiar.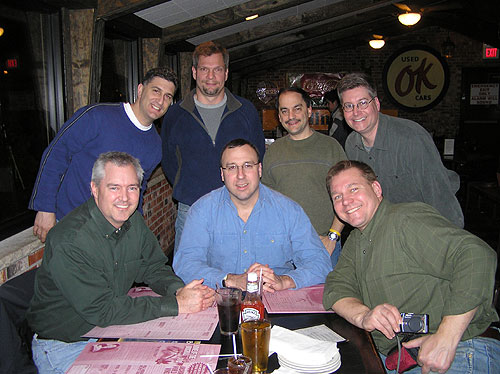 A reunion of all the NCAA Tradition members (past and present) at the Anchor Bar.
---
Day 2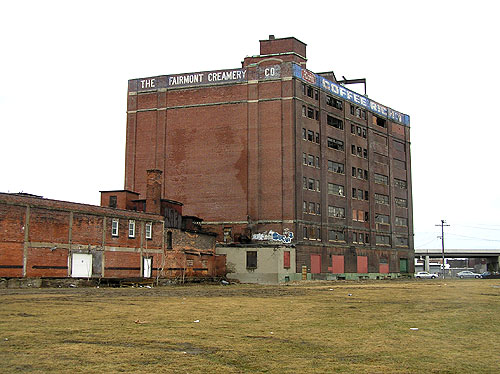 There is a lot of real estate available in downtown Buffalo.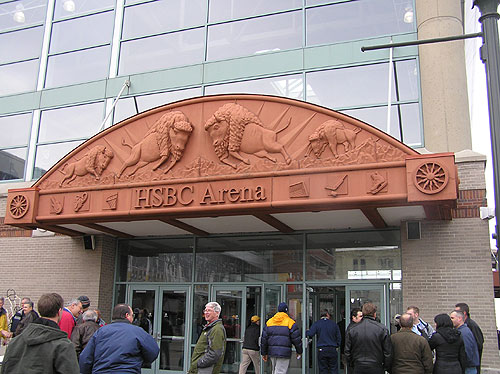 Great arena in a great sports city!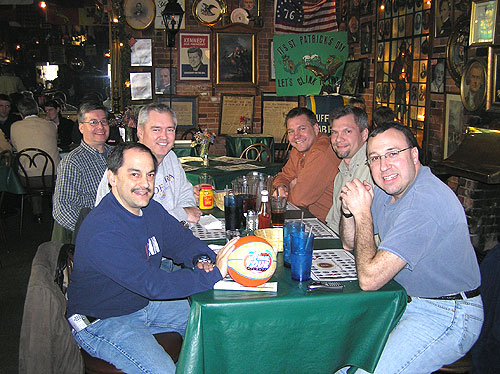 Dinner at the Founding Fathers Pub
–
[youtube]http://youtu.be/tQ3TSbAFIus[/youtube]
See What happens next at The Bucking Buffalo Bar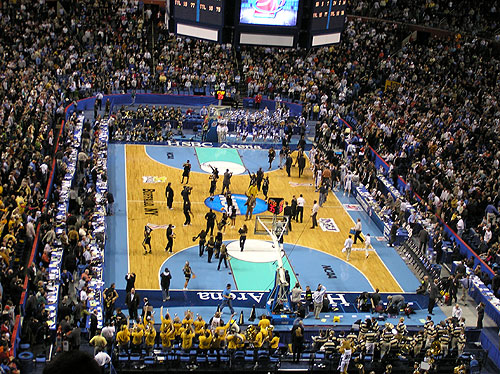 11 seed VCU upsets 6 seed Duke by two points.
---
Day 3 Niagara Falls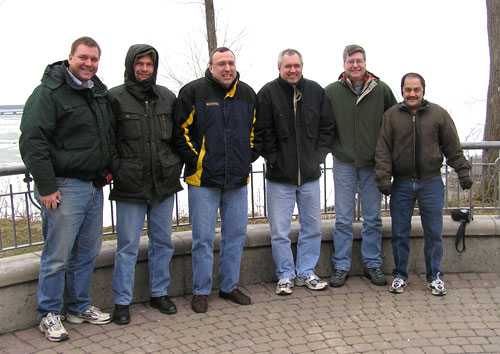 The group in front of Horseshoe Falls.
20 degrees + wind + Niagara Falls Mist = A damn cold day.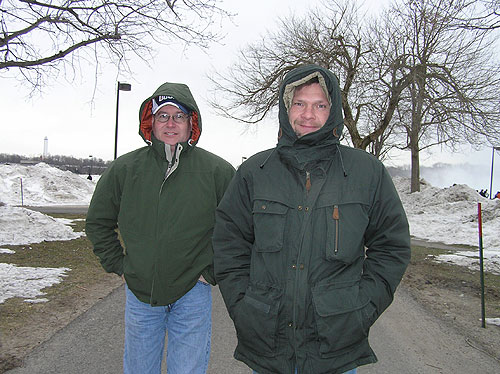 It was a cold as it looks in this picture.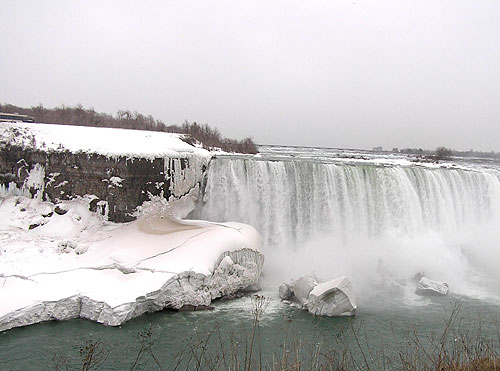 Even the Fall were frozen.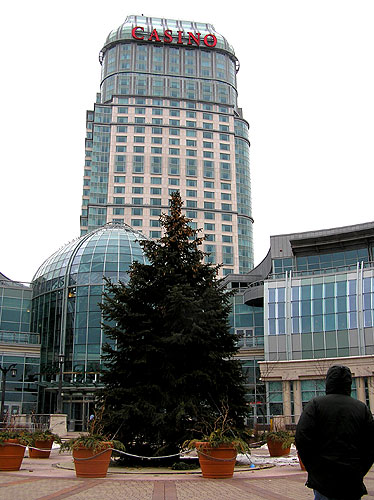 Niagara's Casinos were modern (and warm inside).
---
Day 4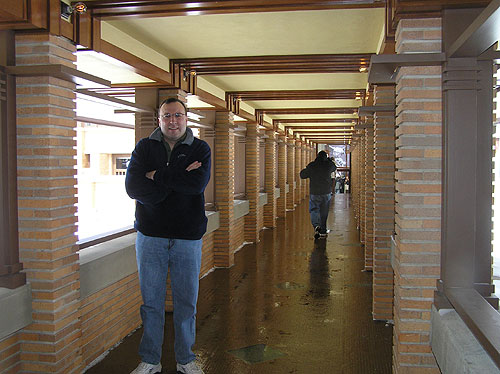 John at the Darwin Martin House, designed by Frank Lloyd Wright.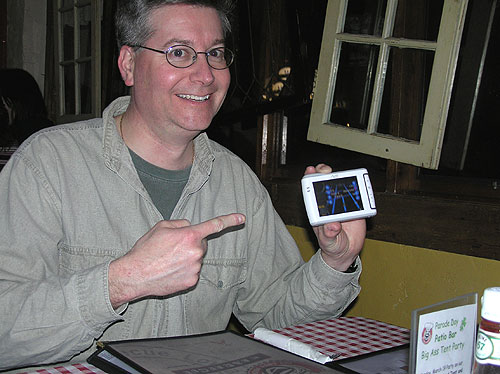 Dave and his Mio GPS navigation system.  He was still talking about it here.
---
Day 5

Although the Dodge Colt looks pretty natural next to
John's garage, Dave needed it to get home.
This is what we returned to coming back to
CT.  I think we have seen that plate
before in a picture on day 1…can you find it?
-[youtube]http://youtu.be/bI9J9IEZHXA[/youtube]
Setting a colt free that is stuck in the snow
---
Other Memorable Moments
In an attempt to relate to the Canadian Border Control officer, Jim ends up being involved in an interrogation process that ultimately leads to a full vehicle search.
Satellite navigation was used to guide us for the first time
Driving back to more snow in CT than there was in Buffalo.
Great games that all down to the wire. One overtime and three games that could have went either way in the final minute.
Each photo above represents one day, click on any one to see the days
photos or click on the mosaic to go see them at

---
The Games
| | | | | |
| --- | --- | --- | --- | --- |
| 6) Duke  | |  | |   | |
| | |  | VCU 79-77*  | | |
| 11) VCU   | | | | | | |
| |   | | | |  Pittsburgh 84-79 |
| 3) Pittsburgh   | |  | | | | |
| | |  | Pittsburgh 79-58 | | |
| 14) Wright Statel  | | | |   | |
| |   | |   | |
| 4) Maryland  | |  | |   | |
| | |  | Maryland 82-70 | | |
| 13) Davidson | | | | | | |
| |   | | | |  Butler 62-59* |
| 5) Butler  | | | | | | |
| | |  | Butler 57-46 |   | |
|  12) Old Dominion  | | | | | |
| | | | | * upsets |
Highest Final Seat: sweet 16