Tucson Arizona March 2005

The year we go international
---
Day 1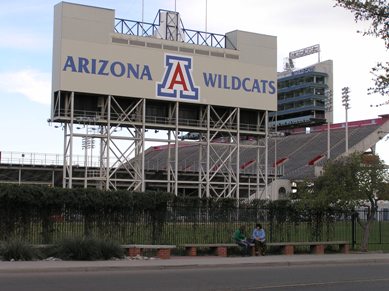 University of Arizona Football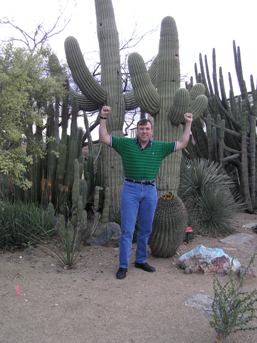 John and his favorite cactus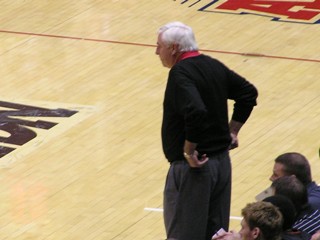 Bobby!
---
Day 2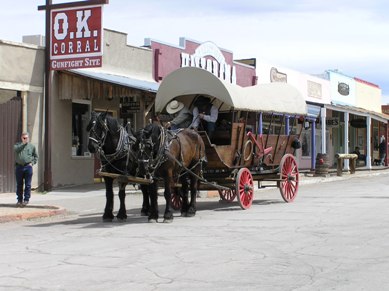 The welcome wagon in Tombstone AZ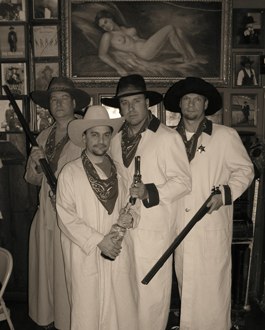 The NCAATradition Gang at Big Nose Kate's (Doc Holiday's girl)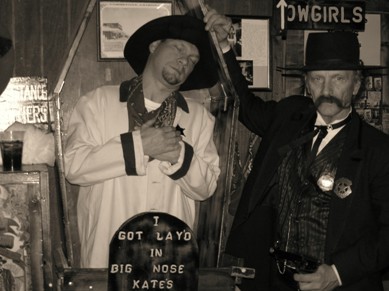 One less gang member with one of Wyatt Earp's descendants?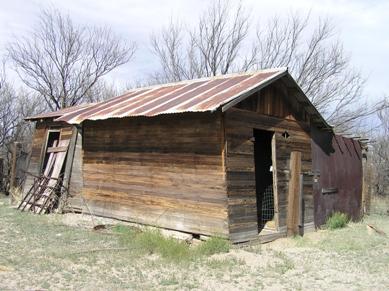 Fairbank AZ – Ghost town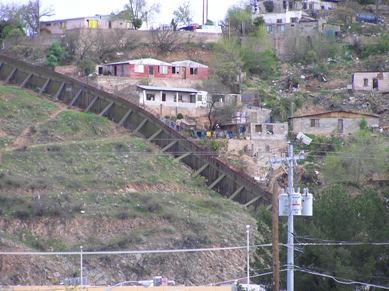 The View of Nogales Mexico from Nogales AZ
Fine Mexican Fasion!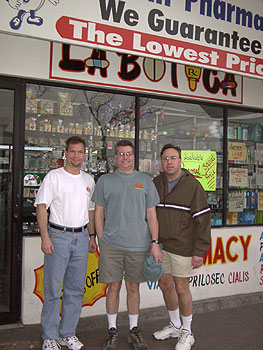 No shortage of pharmacies in Nogales
---
Day 3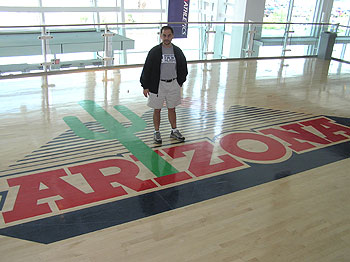 The court in the Arizona Hall of Champions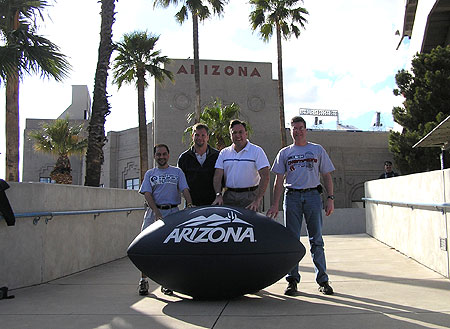 Arizona Stadium
---
Other Memorable Moments
This was our first trip that included an excursion to another country.  We ventured into Nogales Mexico.
All luggage was lost by Delta Airlines and then delivered to the wrong Ramada Limited.  It was 31 hours before we got a hold of our luggage.
Waking up at 4AM on Sunday to catch our 6:30 flight.
---
The Games
| | | | | |
| --- | --- | --- | --- | --- |
| 3) Gonzaga   | |  | |   | |
| | |  |   Gonzaga 74-64 | | |
| 14) Winthrop   | | | | |  | |
| |   | | |  |    Texas Tech 71-69* |
| 6) Texas Tech   | |  | | |  | |
| | |  | Texas Tech 78-66 | | |
| 11) UCLA   | |  | |   | |
| |   | |   | |
| 3) Oklahoma   | |  | |   | |
| | |  | Oklahoma 84-67 | | |
| 14) Niagra   | |  | | |  | |
| |   | | |  |   Utah 67-58* |
| 6) Utah    | | | | |  | |
| | |  | Utah 60-54  |   | |
| 11) UTEP   | | | | | |
| | | | | * upsets |
Highest Final Seat: Utah and Texas Tech in the Sweet 16 (Thanks to the new regional seedings)