Tampa, Florida
March 2003

Year of the Grouper Sandwich
---
Day 1
Apparently, the NCAA Tradition representatives did
not pull the right strings this year. Our assigned seats
required assisted oxygen and sedatives to relieve
the vertigo.Fortunately, we did not spend much time in these seats
and performed some self assisted upgrades.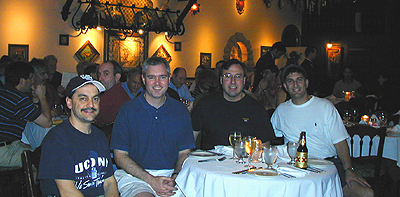 Dinner at the Columbia restaurant was great, even though it wasn't fast enough for Ken.
---
Day 2
---
Day 3
---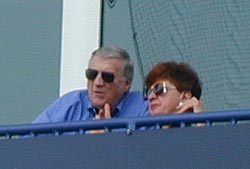 Other Memorable Moments
Brush with Fame
When attending the Yankee game at Legends field, George Steinbrenner was spotted sitting in his luxury box behind us.
The boys also reunite with Newington high school grad Mike Speigler who is now the Athletics Director at the University fo Florida.

Bad Boys Bad Boys?
Ever wonder why cops is always filmed in Tampa?  Well, we found out when Leo navigated us right into some of the best neighborhoods in Tampa.  We also spotted a police cruiser every 5 minutes while driving.
Year of Upsets
We witnessed 3 upsets out of 6 games.  We also saw two number 2 seeds get beat in the second round by a 7 seed and a 10 seed. 
---
The Games (Midwest Regional)
| | | | | |
| --- | --- | --- | --- | --- |
| 2) Florida | |  | |   | |
| | |  | Florida 85-55 | | |
| 15) Sam Houston State | |  | | |  | |
| |   | | |  |  Michigan State 68-46*  |
| 7)Michigan State | |  | | |  | |
| | |  | Michigan State 79-64      | | |
| 10)Colorado | |  | |   | |
| |   | |   | |
| 2) Wake Forest  | |  | |   | |
| | |  | Wake Forest 76-73    | | |
| 15) ETSU | |  | | |  | |
| |   | | |  |  Auburn 68-62* |
| 7) St Joes | |  | | |  | |
| | |  | Auburn 63-65* |   | |
| 10) Auburn  | |  | | | |
| | | | | * upsets |
Highest Final Seed: Michigan State made it to the Elite 8