Nashville, TN     March 2000
The year of  "Ned's Revenge"
Although we were able to get Ken into
this pose, we couldn't get him to take
a sip of the official drink of the
NCAA tradition.
Second Avenue is  were we hung out
most of the time (when the games
were not going on). John will never
forget the the St. Patrick's Day
that he spent without a drink
(see Ned's Revenge below for details).
John also had another first that year
on St Patty's day… he fell asleep in
"Buffalo Billiards", a local watering hole.
---
Our Day Off
| | | |
| --- | --- | --- |
| Being so near Meca (the Jack Daniel's Distillery) meant that our day off was already planned a year in advance. We Started with Lunch at Miss Mary Bobo's in Lynchburg and quickly moved on to Jack's. | Here is the entire group with their commemorative bottles surrounded by some of Jack's fine aging Tennessee Whisky. | Here we are getting a wiff of the product we will be drinking during the 2007 NCAA playoffs. |
The Process
1. Create the Malt from corn, rye, and barley malt.
2. Boil the Malt to distill the liquor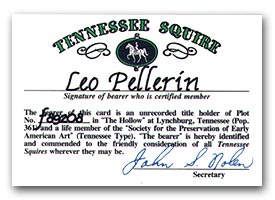 3. Drip the Liquor though wood charcoal (This step is required for all Tennessee Whiskeys).
4. Age the Whiskey in Oak barrels for 7 years
5. Bottle it and ship it to the next NCAA playoff location.
To see the details visit JackDaniels.com and take a virtual distillery tour.
More Facts:
1. Lynchburg TN is in a dry county, which means that JD can be made there, but not sold or served there.
2.Leo and Dave are both members of the Tennessee Squires and thus own land in "The Hollow" at Lynchburg.
3. Jack Daniels is only made at one location in the world.
4. Lynchburg has a population of 361.
5. The Jack Daniel Distillery is the oldest registered distillery in the country and is a National Historic Site. Licensed in 1866, the distillery continues to craft its old-time Tennessee sipping whiskey the way Mr. Jack did back in 1866
---
Other Memorable Moments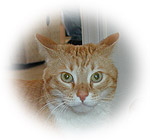 Ned's Revenge
In order to curtail the hotel costs, the group decided to reside at Dave's Condo right outside of Nashville. This sounded like a good idea until we got there and started to live the realization of sleeping on a couch and on the floor. Of course Ned (Dave's cat) hated this most since he lost his sleeping spot on the couch. We all got through the first night with the exception of John. He woke up congested. As the morning wore on John went into a regular uncontrollable cough. John was allergic to Ned.
We decided the correct course of action was to get a hotel room for John and Ken. That night only Leo stayed at Dave's and Ned got his couch back.
Johns Insomnia
It all started at the games, John was caught snoozing during most of the games that day (he blamed it on his recent primary win for the Democratic town committee race). Picture this: St Patty's day and John can't even stomach a single drink. Ned's revenge was still looming and John was still coughing. Naturally Dave and Leo did not follow John's example. We were hitting the town and ended up at Buffalo Billiards in Nashville (a great bar with 3 themes and 4×8 pool tables). John seated himself in one of the big leather chairs in the crowded bar bar and then proceeded to fall asleep sitting up. We woke him up several times….but he kept falling asleep.
---
The Games (South Regional)
2) Cincinnati  

|

 

| 

 

Cincinnati  64-47 

 

15) UNC Wilmington  

 |

| 

 

| 

 Tulsa  69-61*

7) Tulsa  

| 

| 

|

 Tulsa  89-62

 

10) UNLV  

| 

 

 

 

3) Ohio State  

| 

 

|

 Ohio State  87-61 

 

14) Appalachian State  

|

| 

 

| 

 Miami FL  75-62

*

6) Miami FL 

| 

| 

| 

 Miami FL  75-71 

 

13) Arkansas 

| 


* upsets
Highest Final Seat: Tulsa made it to the final 8.