Naturally, the group spent every night on Bourbon Street. Unfortunately we are still looking for photos. We also made several appearances on the famous Bourbon Cam. Many of the stills were emailed to friends, and we are still looking for those as well. You have to remember that there was a lot of drinking on this trip.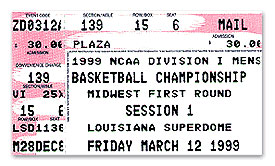 ---
Our Day Off
Other Memorable Moments
Latest Night of our Tradition. We made it past 4AM one night after topping the night off with a trip to Krystal (burgers) on Bourbon Street.
The groups first appearance on a webcam. We we featured several nights on the famous Bourbon Cam. Unfortunately, the screen grabs have been lost so if you have one, please email it to Leo.
Old Betsy's Ride. Just when we thought the excitement was over, we met Betsy. Betsy was our cab driver that was commissioned to bring us from the hotel to the airport. At first things seemed OK until she neglected to get on the highway. Then we noticed that she was swerving a little and only driving 25 miles per hour (in a 45 zone). That's when Ken said "Didn't you miss the entrance ramp?", to which Betsy replied "I been in dis city all my life, I get you to the airport just fine. Besides, this old cab doesn't like to go to fast". We all checked our watches.
Then Betsy decided to stop for gas, as she opened the door a Budweiser can fell out. It was all getting clear now and soon we were on our way again. Then we started to notice Carbon Monoxide fumes gathering in the cab and we all checked our watches again (Ken checked his twice). We ended up making it to the airport with 10 minutes to spare and a little sleepy but old Betsy had gotten us there on time.
---
The Games (Midwest Regional)
2) Utah

|
|

Utah 80-58

15) Arkansas St

|
|
|

Miami Ohio 66-58

*

7) Washington

|
|
|

Miami Ohio 59-58

*

10) Miami Ohio

|

3) Kentucky

|
|

Kentucky 80-62

14) New Mexico State

|
|
|

Kentucky 92-88

6) Kansas

|
|
|

Kansas 95-74

13) Evansville

|

* upsets
Highest Final Seat: Kentucky made the Final 8