Hartford, CT  –  March 1998
Featuring  "The Green Finger"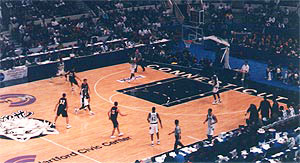 Great basketball with four very close games.
Unfortunately, the Huskies were playing in Boston.[youtube]Insert video URL or ID here[/youtube]
---
Our Day Off
We started with an early lunch ate
the world renowned Pepe's on
Wooster Street in New Haven.
Our next stop was the USS Nautilus in Groton CT.
Our nation's first nuclear submarine and first
submarine to traverse under the North Pole.
—
Our final stop was the Mohegan Sun Casino. We decided to recreate
our gambling experience from Tunica in the 1995 trip.
---
Other Memorable Moments
The Green Finger.  On our drive home from the Casino, Ken shocked us all by revealing his green bulbous finger.  He then asked whether he should go to a doctor.  Leo replied "Sure….to cut it off."  At this point the group had a new mission….get Ken to the doctor, even though he didn't want to go.  We dragged him into a clinic in Bloomfield where the receptionist thought the whole charade was a joke (probably due to our laughing).  She refused to let Ken see the doctor even after he showed her his finger.
To this day, no one knows what caused Ken's finger to turn green and bulbous, but we are happy to report that it did go away.
15 Seconds of Fame.  While drinking at Coaches, we were approached by WTNH Channel 8 and asked why we go to the games.  Dave's comments were used on the news that night at 6 and 11.  Of course they picked the gem of the comments he made. "You would be amazed how tired you get of basketball after all these games".  Leo, John and Ken could also be seen next to Dave. 
Brush with Fame.  While hanging out at Lord Jim's pub in Hartford, mayor Mike Peters walked in and proceeded to order his free drinks.
Most Uneventful Event.  We attended "Matty O'Malleys Wake" at the knights of Columbus as per John's suggestion.  We were the youngest there by at least 10 years and spent our time figuring a way to sneak out without being seen.
Hartford's Proudest Moment.  
The news of the event was LAZ (The Hartford Parking Monopoly) raising their prices to a record high $15 for the games.


The lack of any recognition by the city that the games were in town.


The lack of any bars or restaurants even knowing about the event. 

---

The Games (East Regional)
| | | | | |
| --- | --- | --- | --- | --- |
| 1) North Carolina   | |  | |   | |
| | |  |  North Carolina  88-52  |   | |
| 16) Navy   | |  | | |  | |
| |   | | |  |  North Carolina  93-83 |
| 8) NC Charlotte   | |  | | |  | |
| | |  |  NC Charlotte 77-62 |   | |
| 9) Ill Chicago   | |  | |   | |
| |   | |   | |
| 5) Princeton   | |  | |   | |
| | |  |  Princeton  69-57 |   | |
| 12) UNLV   | |  | | |  | |
| |   | | |  |  Michigan State 63-56 |
| 4) Michigan State   | |  | | |  | |
| | |  |  Michigan State  83-71  |   | |
| 13) E. Michigan   | |  | | | |
| | | | | no upsets |
Highest Final Seat: North Carolina made the Final 4