Charlotte, NC
March 1997
Featuring "The Battle of Waffle House"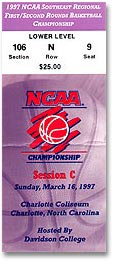 Great seats at a beautiful stadium.
Too bad the rest of the town didn't realize the NCAA playoffs were in town.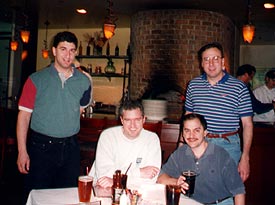 The crowds were everywhere as seen in this photo at a brick oven pizzeria.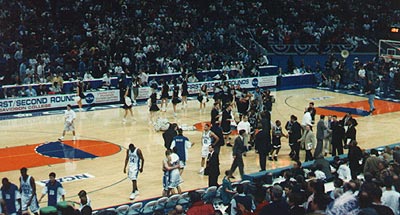 Duke is upset by Providence in the second round!
---
Our Day Off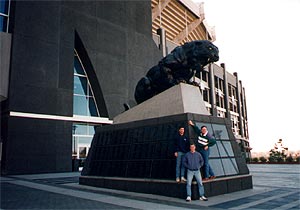 We started our tradition of visiting local sporting venues.
Here we are in front of Ericsson Stadium.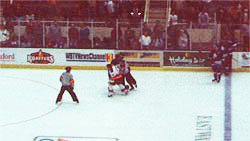 How about a little minor league hockey with the Charlotte Checkers.
This fight started in the First period
with 19:58 left to play.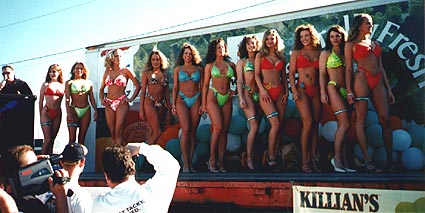 Some local talent at a local bar.
---
Other Memorable Moments
Worst Restaurant.  Kenny was anxious to eat and rushed us into a buffet steak house near our hotel.  The good news was that a steak dinner was $4.99.  The bad news was that it was by far the worst and most unsanitary restaurant south of the Mason Dixon Line.  Ken is still not allowed to choose restaurants. 
The Battle of Waffle House. Another memory that was initiated by Ken trying to make tip-off.  Naturally, Ken and John were up at 6 AM, went jogging, and ate breakfast before Dave or Leo got out of bed.   Dave decided he needed breakfast so insisted we stop at Waffle House.  It was 11 AM and Waffle House had a 1/2 hour wait.  Ken was starting to sweat.  Then came the first shot of the battle….Ken said,  lets skip breakfast to make tip-off.  Dave retaliated with a "no Ken".  Ken then asked again and stressed that he really wanted to see tip off.  Dave elevated his voice and said "No".  After several more shots were fired, everyone at the Waffle House was looking for cover.  Finally, Dave packed up his artillery and agreed to go to the Wendy's drive through for breakfast.  We were 10 minutes late for the game, but Ken refused to reinstitute "The Kenny Shuffle of 95". 
---
The Games (Southeast Regional)
Highest Final Seat: Providence made it to the final 8.
| | | | | |
| --- | --- | --- | --- | --- |
| 2) Duke   | |  | |   | |
| | |  |  Duke 71-68 |   | |
| 15) Murray State   | |  | | |  | |
| |   | | |  |  Providence  98-87*  |
| 7) Marquette   | |  | | |  | |
| | |  |  Providence  81-59*  |   | |
| 10) Providence   | |  | |   | |
| |   | |   | |
| 3) Georgia   | |  | |   | |
| | |  |  Tenn. Chattanooga  73-70*  |   | |
| 13) Tenn. Chattanooga   | |  | | |  | |
| |   | | |  |  Tenn. Chattanooga  75-63*   |
| 6) Illinois   | |  | | |  | |
| | |  |  Illinois  90-77 |   | |
| 11) Southern California   | |  | | | |
| | | | | * upsets |