Memphis Tennesee, March 1995
Featuring "The Kenny Shuffle"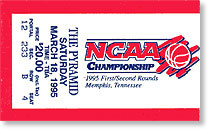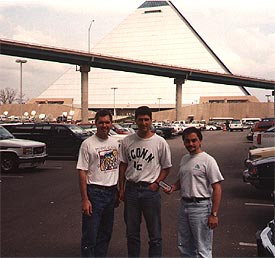 This photo was taken moments before the famed "Kenny Shuffle" occurred.
Ken was so concerned about seeing tip-off he felt he had to get into the
Pyramid as quickly as possible.He refused to run so he simply walked as fast as he could…
creating the "Kenny Shuffle"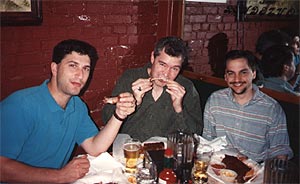 Between the Games the group went to the famous
"Rendezvous Room" for ribs.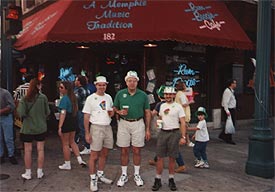 No trip to Memphis would be complete without a
drink on Beale Street, especially on St. Patrick's Day.
Our Day Off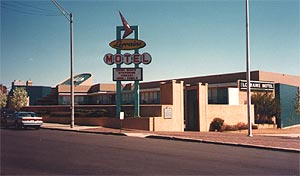 The Motel Lorraine and Civil Rights Museum was our first stop.
The famed hotel where Martin Luther King was shot.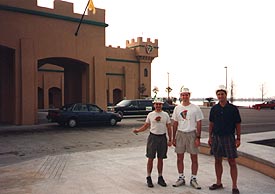 A trip to Tunica Mississippi to Fitzgerald's Casino.
Leo Walked out with over $100 profit which he proceeded to blow on drinks and tips for tap dancing kids on Beale Street.
We then went to Graceland and viewed the home of the late great Elvis.
---
Other Memorable Moments
The Kenny Shuffle.  This is where it all started, Ken did not want to miss tip off and left his friends behind as he shuffled into the Pyramid to see tip off.
Crowning of the official drink of the NCAA Tournament Tradition.  After a vote in with 3 yeas and 1 "I can't vote in this" (from Kenny) the official drink is JD and Coke.
The late afternoon at "The Pinch".  A New Orleans atmosphere with drinks in the streets and beads.
Our Brush with Fame.  We rode in the Peabody hotel elevator with Tom Gorman of CBS.
---
The Games (Southeast Regional)
| | | | | |
| --- | --- | --- | --- | --- |
| 1) Kentucky   | | | |   | |
| | | |  Kentucky 113-67  |   | |
| 16) Mount Saint Mary's   | |  | | |  | |
| |   | | |  |  Kentucky  82-60 |
| 8) Brigham Young  | |  | | |  | |
| | |  |  Tulane  76-70* |   | |
| 9) Tulane   | |  | |   | |
| |   | |   | |
| 5) Arizona State   | |  | |   | |
| | |  |  Arizona State  81-66  |   | |
| 12) Ball State   | |  | | |  | |
| |   | | |  |  Arizona State  64-54 |
| 4) Oklahoma    | |  | | |  | |
| | |  |  Manhattan  77-67* |   | |
| 13) Manhattan     | |  | | | |
| | | | | * upsets |
Highest Final Seat: Kentucky made it to the final 8